When the U.S. goes to War,
the World takes notice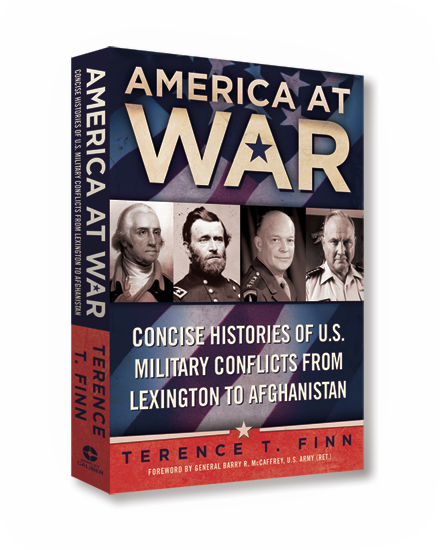 Essential reading...
"This book should be essential reading for students of U.S. history and military officers around the world."
— General Barry R. McCaffrey, U.S. Army (Ret.)
A much needed book...
"A great review of the 12 important US wars! Easy reading and very concise. Definitely worth buying and reading this book."
— Richard S. Tobey Jr.
Great summary and very good maps...
"The knowledge summarized in this helpful little book will give you a fundamental understanding of America's 12 wars. It will, as it were, level the playing field among all 12. I found that I knew much more about the Civil War, the Revolution, World War II and the Vietnam War, that I did about the other eight.
I was very happy to have a source that gave me a solid base on all of them."
— Robert C Ross (New Jersey)
Exactly as the title says...
"This is the perfect companion text for any student of American history. Should be referenced as a primer for all of America's conflicts."
— M. Damico
Informative...
"The narratives in AMERICA AT WAR are informative and readable, and I learned a fair amount of American military history that I probably should have known but didn't. "
— Richard Kalter
Crucial Issues...
"America At War provides the necessary prelude to analysis and raises the crucial political and moral issues of each conflict."
— Fred Morhart
Advanced Placement and International Baccalaureate teacher, Fairfax County Public Schools.
Author Terence T. Finn's latest book presents the most succinct and precise history of why and how America has waged its wars since its birth. War — organized violence against an enemy of the state — seems part and parcel of the American journey. lndeed, the United States was established by means of violence as ordinary citizens from New Hampshire to Georgia answered George Washington's call to arms. Since then, war has become a staple of American history.

ln this comprehensive collection, Terence T. Finn provides a set of narratives — each concise and readable — on the twelve major wars America has fought. He explains what happened, and why such places as Saratoga and Antietam, Manila Bay and Midway are important to an understanding of America's past. Readers will easily be able to brush up on their history and acquaint themselves with those individuals and events that have helped define the United States of America.

History/Non-Fiction. Paperback, Penguin/Berkley/Caliber, January 2014. $17 US.
This book is available for purchase through PayPal.
This book is also available from our friends at the Bookplate
book store in Chestertown, Maryland. Visit their website: www.bookplate.biz